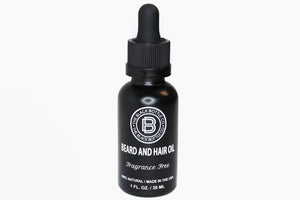 A Beard And Hair Oil That Soothes and Shines At The Same Time
Taking care of your beard is a daily task made much easier when you have beard oil that rejuvenates your senses while it's hydrating your beard. 
With our Fragrance Free Oil, your beard, skin, and hair gets the daily moisturizing care it needs without any added fragrance.
For a way to step up your beard care routine, apply a few drops of this Fragrance Free Oil to your beard after your shower, massage it in gently, and let the magic happen.
✔ Hydrates and Moisturizes - The key to a healthy beard is making sure the hair stays moisturized, and thanks to a combination of Avocado oil, Grapeseed oil, Almond oil, Blackseed oil, Argan oil, and Jojoba oil, your beard will look fresher and fresher after each application. 
✔ Condition Your Skin - As important as healthy hair is, the skin underneath your beard has to thrive, too. This Fragrance Free Oil will keep your skin feeling soft and conditioned and free of irritation.